Description:
It is said that, "The future belongs to those who prepare for it today." So, what is on the horizon for the future of forecasting?
Spyros Makridakis, one of the world's leading experts on forecasting, shared his insights on the past and future of forecasting during his keynote at the Forecast Pro User Conference on September 19, 2022.
If you missed the User Conference don't worry – you can still catch his presentation. Join us for this free 75-minute webinar as we re-watch Spyros' keynote!
Spyros provides a brief history of the forecasting field, highlighting the importance of the Makridakis competitions in guiding its progress, and emphasizing the recent achievements of machine learning (ML) methods. In addition, he discusses the future of forecasting, and the challenges and changing role of the professional forecaster when ML methods become widely adopted.
Speaker: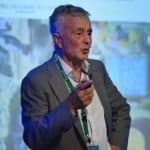 Spyros Makridakis is a Professor at the University of Nicosia, where he is a director of its Institute For the Future (IFF) and the founder of the Makridakis Open Forecasting Center (MOFC). He has also been an Emeritus Professor at INSEAD since 1970. He has authored, or co-authored, twenty-seven books and special issues and more than 360 articles. His book Forecasting Methods for Management, 5th ed. (Wiley) has been translated in twelve languages and sold more than 120,000 copies while his book Forecasting: Methods and Applications, 3rded. (Wiley) has received close to 6,400 citations. Professor Makridakis was the founding editor-in-chief of the Journal of Forecasting and the International Journal of Forecasting and is the organizer of the renown M (Makridakis) competitions that for the last 40 years have fundamentally influenced the theory and practice of forecasting. His numerous papers and citations can be found in his Google scholar profile.
Can't attend the live webinar? Register for the session and we will notify you via email when the recording is available for on-demand viewing.