User Conference Overview
The Forecast Pro User Conference empowers you to get the most out of Forecast Pro by meeting with and learning from fellow users, forecasting experts and the Forecast Pro team. This content-rich event is designed to help you to improve your forecasting by focusing on "real life" business scenarios and offering practical solutions that you can implement in your own organization.
We've purposely structured the conference to be an intimate event so that you can make valuable connections with other Forecast Pro users to share your knowledge and ideas. This is your opportunity to understand how other forecasters use the software, to discover how they've solved problems similar to those that you face and to compare notes on forecasting practices.
The conference is jam-packed with a variety of session types—including Forecast Pro demonstrations, hands-on workshops, user case studies, tutorials, panels and networking events—all of which are designed to help you get the most out of Forecast Pro and strengthen your forecasting process.
Schedule At-a-Glance
Monday, September 21
Forecast Pro: Past, Present, and Future
Tales from the Road: How to get the Most from Forecast Pro
Exponential Smoothing Demystified
Client Case Study
Forecasting the Impact of Promotions and Other Events
Hands-On Breakout Sessions:
– How to Unleash the Power of the Override Grid
Evening Cocktail Party
Tuesday, September 22
Defining and Executing a Forecasting Process
Effective Strategies for Forecasting New Products
Client Case Study
Forecast Accuracy and Evaluation
Hands-On Breakout Sessions
– How to Unleash the Power of the Override Grid
– Dynamic Regression
Wednesday, September 23
Working with Others to Establish the Final Forecasts
How do I… ?
Venue & Accomodations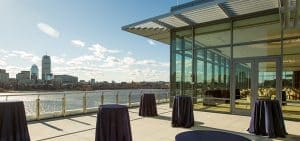 MIT Samberg Conference Center
The Forecast Pro User Conference 2020 will be held at the MIT Samberg Conference Center. Located on the MIT campus in Cambridge, Massachusetts, this state-of-the art conference facility features panoramic views of the Charles River and Boston skyline.
Accommodations are available at the Residence Inn Boston Cambridge located in Kendall Square, a 10-minute walk from the conference center. A reduced room rate of $339/night—which includes a complimentary hot breakfast buffet —is available if you book your room by August 31, 2020. Limited rooms are available so we encourage you to book your hotel room online now. You can also reserve a room by calling the hotel directly at +1.617.349.0700 and indicating that you are attending the Business Forecast Systems User Conference to obtain the discounted rate.