Forecast Pro TRAC
Forecast Pro TRAC is a comprehensive forecasting and forecast management system. This affordable and easy-to-use solution gives your team the capability to create accurate and credible forecasts, along with the tools for efficiently managing, monitoring and improving your forecast process.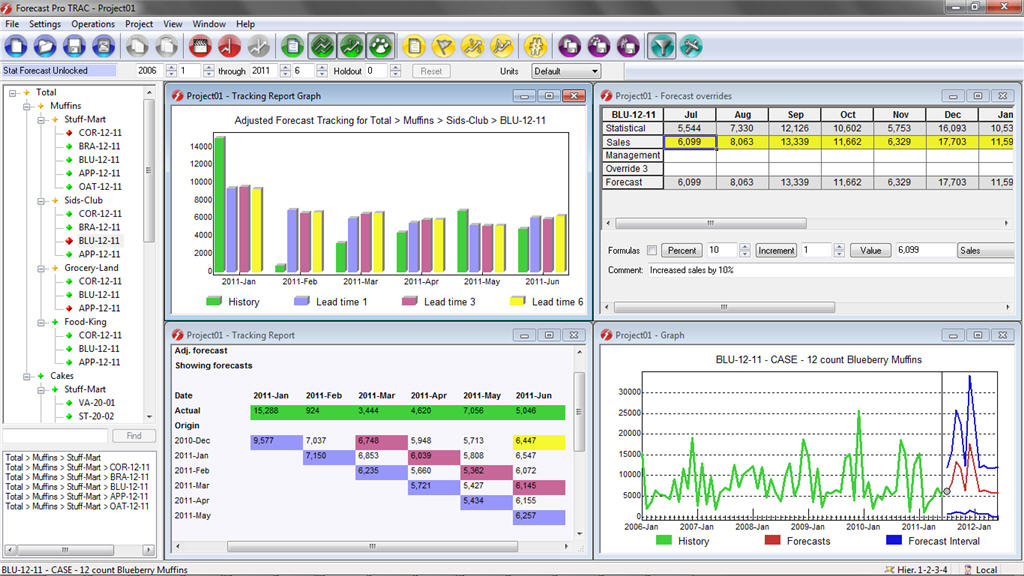 Built on a Solid Proven Foundation
Forecast Pro TRAC is built on the Forecast Pro Unlimited framework and combines all of the forecasting, graphing, reporting and adjustment capabilities found in Forecast Pro Unlimited with the advanced data visualization and analytic tools you need to execute a complete world-class forecasting process.
This Web page highlights the features in Forecast Pro TRAC that are NOT included in Forecast Pro Unlimited. Specifically:
Multiple Units of Measure
"Shuffling" (on-the-fly hierarchy changes)
Exception Reporting
Integration of Multiple Forecasts for S&OP
Customizable Forecast Worksheets
Accuracy Tracking
Time Fences
View your forecasts any way you wish.
Forecast Pro TRAC allows you to view your data and forecasts in any units of measure you wish. A simple drop-down menu lets you instantly switch among those units of measure that are important to your business—such as dollars, units sold or pallets.
Rearrange your hierarchies.
With Forecast Pro TRAC's powerful "shuffling" capability, you can rearrange hierarchies on the fly with just a couple of clicks. Need to generate a report showing product-level forecasts broken out by customer and then create another report showing customer-level forecasts broken out by product? No problem!
Focus on the items that need your attention and have the greatest impact.
With Forecast Pro TRAC's flexible exception reporting, you can automatically flag exceptions, saving you from having to manually review a long list of items—no one likes the feeling of searching for a needle in a haystack! The reports are easily customizable to reflect different performance metrics—such as forecast vs. history or whether a current forecast falls outside a pre-defined range—and give you a quick way to identify potential problem areas.
Work with multiple forecasts.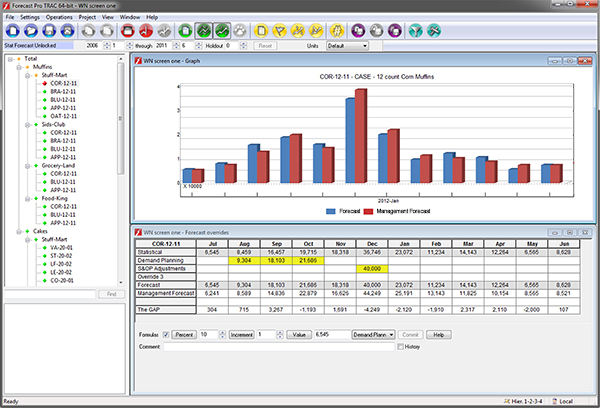 In addition to generating a statistical forecast, Forecast Pro TRAC allows you to import multiple forecasts into the forecast worksheet (i.e. from other parts of your organization or partners) and to specify which forecast serves as the "baseline" on an item-by-item basis. You can then combine multiple forecasts to create a new forecast consistent with your organization's S&OP or other established process.
Work with any information you need.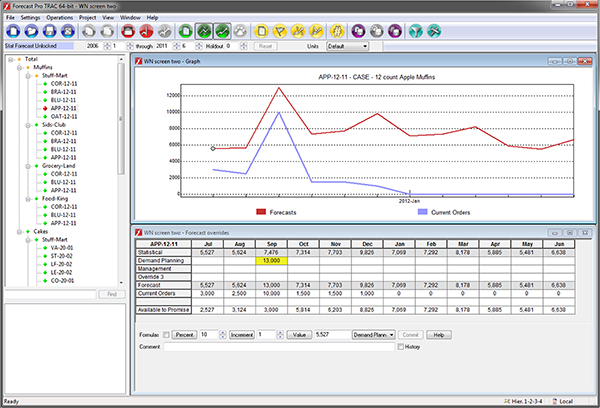 Forecast Pro TRAC allows you to bring other pertinent information into the forecast worksheet—such as current orders and inventory—and to create new rows which are calculated based on the values of existing rows (including forecasts and other imported information.) You can then design customized planning and S&OP worksheets addressing your specific needs.
Monitor your forecasting performance for continuous improvement.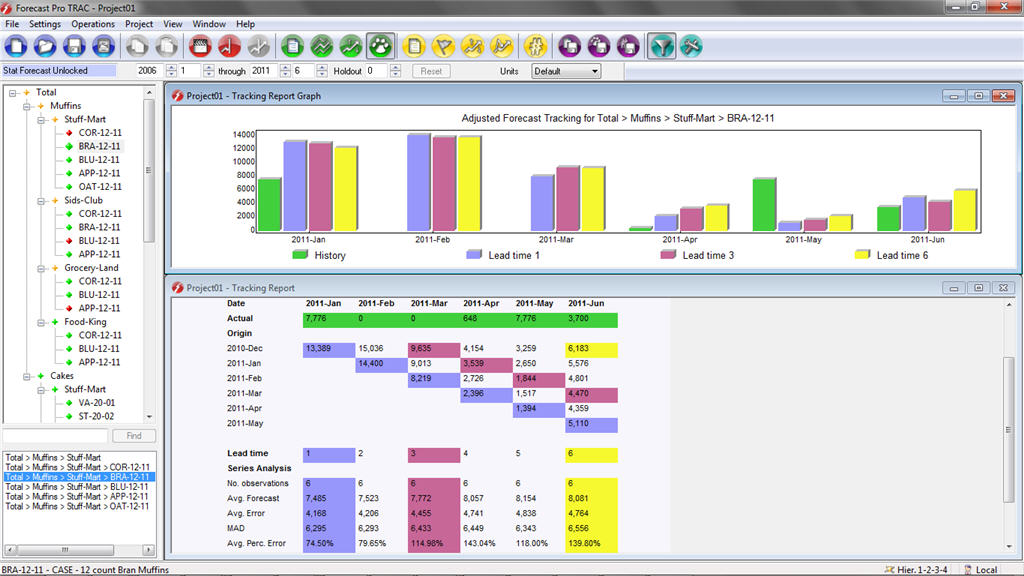 Forecast Pro TRAC maintains an archive of your previous forecasts (both statistically-generated and adjusted forecasts) so that you can compare and contrast previous forecasts to what actually happened. With just a quick glance at Forecast Pro TRAC's "waterfall" reports you can zero in on what's working and what isn't.
Lock in specific forecasts.
Some forecasting processes require certain forecasts to be "frozen" or locked in for a period of time during which changes are simply not allowed. Forecast Pro TRAC allows you to set time fences—on a global or item-by-item basis—to prevent users from changing forecasts during these "fenced" periods. When you update a forecast project with next period's data and create new forecasts, the fenced values from the previous forecast remain locked in.
Forecast Pro TRAC Collaborator licenses
Forecast Pro TRAC Collaborator licenses, provide an easy and affordable way to collaborate with colleagues. Offered at a fraction of the cost of Forecast Pro TRAC Forecaster licenses, Collaborator licenses allows others to view your forecasts—including graphs and reports—add overrides and comments, and save the results.
Live Demo via the Web
Do you like what you've seen of Forecast Pro TRAC and want to learn more? Click here to request a free live demo for your team via the Web.